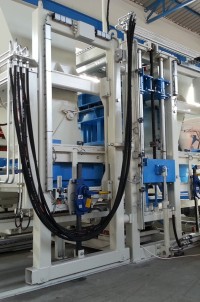 Full automatic block and paving producing machine Sumab R-400 is a model in which applied all the present and latest technologies of vibropressing.
With stationary machine Sumab R-400 following concrete products are produced on efficient way: hollow blocks, insulated blocks, paving stones, curbstones and other.
Technical data:
Max product height: 330 mm
Min product height: 40 mm
Machine weight with face mix equipment an mould: 6500 kg
Installed electrical power: 23 kW
Main concrete hopper capacity: 900 l
Face concrete hopper capacity: 900 l
Production capacity in 8h / 100%:
Hollow block: 6 912 pieces (20x20x40 cm)
Paving stone: 550-640 m2 (10x20x6 cm)
If You choose the full automatic block machine, You will receive an Internet modem as a gift!