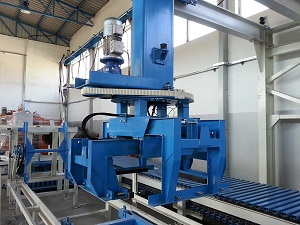 It is used for cubing of single layers of products from production pallet to block cubes on euro pallets or directly to slat conveyor.


All drives are executed as servo drives.
High accuracy of positioning by integrated measuring of travel distance.
Travel sped with soft adjusting, including ramp functions for soft starting and braking down.
Fast acceleration by high dynamic of the drives.
Technical data

Mechanical data

Lifting capacity 500 kg
Max cube height including transport euro pallet 1500 mm
Travel distance standard 2500 - 3000 mm


Electrical equipment data
Trolley drive power 5,5 kW
Lifting drive power 11 kW
Turning drive power 2,2 kW


Hydraulic equipment data
Installed electric power 7,5 kW
Oil tank capacity 240 l
To order, please fill the Order form