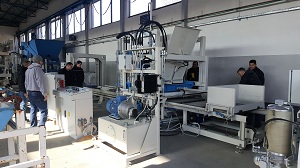 28.11.2016
November 22-23, 2016 the representatives of Ukrainian company TOV "PODILLIA-ZALIZOBETON" (Vinnitsa, Ukraine) have visited manufacturing site of Sumab.

Our partners - company Sumab-Ukraine also participated in the organization of this visit.

The company TOV "PODILLIA-ZALIZOBETON" is the largest manufacturer of concrete and concrete products and also a developer of in Vinnitsa district. Company staff consists of more than 200 employees. The company has several departments.


During the visit representatives of company TOV "PODILLIA-ZALIZOBETON" got information about concrete pipes and rings production equipment. Also stationary block machine SUMAB R-400 was presented. They also participated in testing of that block machine and in its trial production.



The further cooperation of Scandinavian & UK Machines and TOV "PODILLIA-ZALIZOBETON" will be discussed in the nearest future as well as possible projects of the Sumab's equipment delivery to that company.