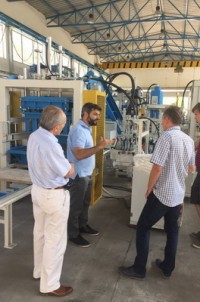 07.09.2015
In August 2015 visits of Customers to manufacturing base Sumab and negotiations about supplying of equipment were held.
The company HYDRO-MASINA HUNGARY negotiated about delivery of mobile concrete plant Sumab K-60 and mobile blick machine SUMAB E-12.
Yiannis Pontikes, representattive of ressearch department of Belgian university Lueven - the project about manufacturing products from geopolymer. Negotiations about delivery of block machine SUMAB E-300 and cold asphalt mixer SUMAB C 15-750.