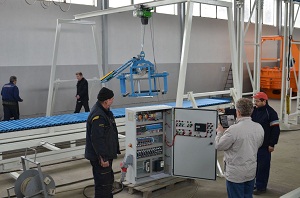 18.03.2015
In February 2015 production base Sumab for inspection of the equipment and negotiations was visited by the next companies:
The Customers from Siria visited Scandinavia (company ABG cement corporation) and Customers from New Zeland.
Also there was a visit of Customers from Iraq, company I - S construction
Also our manufacturing was visited by the company from Tambov, Russia. Interested in semi-automatic block line Sumab R-500 or Sumab R-400, with a concrete plant.
And Belarusian company Ltd. "BelVDLservis" (Slutsk). Interested in block lines Sumab E-400, Sumab U-1000. Automatic and semi-automatic.