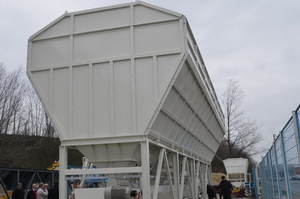 14.03.2013
From 7 to 9 March in Serbia finished manufacturing and passed testing and commissioning of equipment for customers from Kaliningrad. Two concrete plants Sumab, capacity 60 and 80 m3 per hour have been presented for clients.
Also there was a presentation and testing of line for producing blocks, paving and curbs Universal, capacity 1000 square meters of paving in a shift, for customers from Novosibirsk.
During the same period there was a visit of customer from Kazahstan on current production for the presentation and examination of our equipment in a production environment.
We suggest you to familiarise with some photographic materials from the last presentation of the equipment.