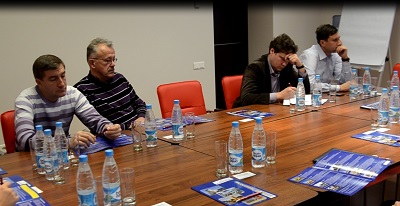 02.11.2013
18.10.2013 in Ekaterinburg, the capital of the Urals, a business meetings with businessmen of the building industry has taken place. The organizer of a meeting was our Russian partner, businessman Alexey Chemodanov.
At a meeting there were heads of the companies working in sphere of concrete technologies of Urals Mountains.
Semjons Sapkins on behalf of Scandinavian & UK Machines AB has told about company Products, new products and projects in which the company at the moment participates.
The invited guests have shared news of the construction industry of Urals. Participants of business meetings have shown the greatest interest to production lines of manufacturing
blocks, curbs, a paving stone blocks.