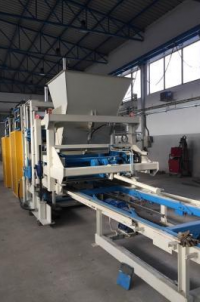 SPECIAL PROMOTION
7 % DISCOUNT
Only until August 31, 2017.
Dear Customers!
We are happy to announce that we begin a special discount campaign regarding equipment in Stock!
Please, see the offers below!
Stationary block making machine SUMAB U-1000
Capacity: 17800 blocks/shift

1200m2 paving stones/shift
Semiautomatic
Manufactured in 2014. NEW! DIDN'T WORK. IN A STOCK AN READY FOR DELIVERY.
With a stationary machine SUMAB U-1000 You can produce the following products:
1. Empty blocks
2. Curbstones
3. Paving stone
4. Tiled stone
Pallet size: 1400x950 mm. Useful area max: 1300x900 mm.
Production capacity in 8h/100%:
Paving stone (10x20x6 cm) – 1360-1680 m2
Hollow block (20x20x40 cm) – 17280 pieces
Curbstone – 2400-2800 pieces depending on the size of the curbstones, without or with face mix.
Vibration system Knauer, Germany. Vibration system Synchrotronic, with externally synchronized vibrators max 120 kN vibration force (150 kN with tamper head vibrators).
To get more information, please fill the Request form