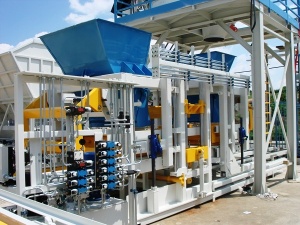 With a stationary machine SUMAB R-1500 You can produce the following products:
Empty blocks

Curbstones

Paving stone

Tiled

stone
Capacity (per shift):
Paving stone (10x20x6 cm) – 2000-2600 m2
Hollow block (20x20x40 cm) – 23000 pieces
Curbstone – 2800-4000 pieces depending on the size of the curbstones, without or with face mix.
Pallet size max: 1400x1100 mm.
Useful area max: 1300x1050 mm.
If You choose the full automatic block machine, You will receive an Internet modem as a gift!
To get more information, please fill the Request form