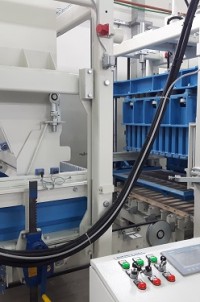 Block machine of New generation SUMAB R-500 is a perfect solution for producing of different types of concrete products on efficient way: hollow blocks, insulated blocks, paving stones, curbstones and others.
Block machine SUMAB R-500 produced by Scandinavian technology, using components from the Best european manufacturers.
Production capacity in 8 h/100%:
Hollow blocks: 12960 pieces (20x20x40 cm)
Paving stone: 864-1016 m2 (10x20x6 cm)
Working pallet dimension: 1400 x 700 mm.
Useful area Max.: 1300 x 650 mm.
At the heart of the concrete block production plants Sumab are the components from leading manufacturers in Europe(vibration system Knauer - Germany, Hydraulic System - Germany, etc.).
Configuration flexibility, and the large number of components and assemblies allows to make a block line modular(like Lego).
Elasting pricing policy allows the production of a variety of models, ranging from very simple ones that use manual labour, to high-quality, computer-controlled production lines.