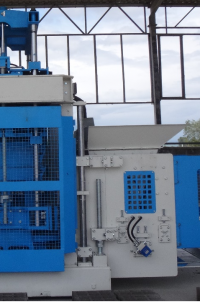 SUMABE-12 TRANSFORMER mobile block production plant. Type - "oviposition".
Performance:
For hollow blocks 20x20x40 cm - 15.700 pcs. blocks / 8 hours
Using SUMABE-12 TRANSFORMER equipment, you can produce the following products:
Hollow blocks
Solid blocks
Chimneys
Light blocks
Paving stones
Borders, etc.
SUMABE-12 TRANSFORMER produces products with the following dimensions:
Concrete element height: from 60 mm to 500 mm
Maximum production surface area: 1290 mm x 1130 mm
Number of high frequency vibrators: 6 pcs.
Weight of a machine with a mold without an additional hopper for the front mixture: 6650 kg