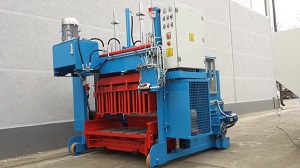 Special mini block machine SUMAB E-6 S is a budget solution for manufacturing of most concrete products:


Hollow blocks
Solid blocks
Chimney blocks
Hourdy blocks
Curbstones
Insulated blocks
Garden blocks
Light weight blocks and others.


Production capacity: 5.700 pcs / 8 hours for 20x20x40 cm hollow block type.
Block height floor production: 175-350 mm
Production area: 1240 x 550 mm (6 blocks 20x20x40)
Number of high frequency vibrators: 3 pieces
Machine weight with mould: 2.500 kg.
To get more information, please fill the Request form